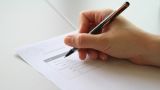 RIGeL program evaluation is closed
The evaluation of the structured PhD program of RIGeL is closed now. We would like to thank you for your feedback and for helping us to improve the quality of our PhD program.
Rebecca Moschall has won the Amazon gift card in amount of 50,- EUR. We congratulate her!