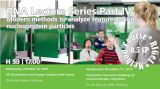 RNA Lecture Series Part III starts on October 16
In this winter term part IV of the RNA Lecture Series "Modern methods to analyze features of ribonucleo-protein particles" will start on October 16, 2019, 17:00 h in H 53 with the talk of Dr. Michael Mahlert (Bitplane) on "3D Visualisation and Image Analysis with Imaris". In this part of the RNA Lecture Series there will also be a guest lecture by Dr. Jan Kosinski (EMBL Hamburg). Dr. Kosinski will give a talk on "Integrative structural modeling of macromolecular complexes" on December 11, 2019.
Full participation in Part IV can be counted as a Method Course with 0.5 CP within the RIGeL Curriculum.