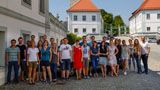 6th CBB & MEE Summer Academy, 29.06.-01.07.2015, Schloss Hirschberg
This year's 6th Summer Academy of the RIGeL sections CBB (Cellular Biochemistry and Biophysics) and MEE (Molecular Ecology and Evolution) took place at Schloss Hirschberg, a beautiful baroque castle, from the 29th of June until the 1st of July. The Summer Academy started with a Teambuilding Event about "Geocaching" with small challenging tasks around Schloß Hirschberg to get to know each other.
Right after the Teambuilding Event we got started with the first talks of the scientific program. Afterwards, we had a get-together evening by a dinner followed by a walk down to Beilngries town.
In the second day of the Summer Academy, PhD students from both sections CBB and MEE presented their results with wide-ranging topics during poster session as well as talk sessions. Two companies NuGEN and GE Healthcare also gave us insights into the new techniques in molecular biology: Next Generation Sequencing and CRISPR-Cas9 Genome Editing, respectively. Especially, the keynote lecture by Dr. Sonja Lorenz, a new group leader from DFG Research Center for Experimental Biomedicine, University of Würzburg, concluded the second scientific day with a very interesting and fascinating research about mechanism of Lys11-linked ubiquitin chain formation.
Also on the second day the election for the CBB representative took place. Kristina Heyn (Biochemistry II) will be the new PhD representative for the next 2 years. After two years in office Alexander Pfab (Cell Biology and Plant Biochemistry) resigns from his assignment as PhD representative. Stefan Dillinger (Biochemistry III) who has assumed his office in January 2014 will continue until the end of this year.
The second keynote lecture in the morning of the third day was given by Dr. Philipp Benz, Assistant Professor from TUM. He presented an inspiring talk about analysis of plant biomass perception. Following, we continued with the talk session with lots of effective scientific discussions.
The Summer School was concluded with couple of prizes awarded to the most outstanding poster and talk. The best talk was presented by Patrick Löffler about "Combining Cumputational Protein Design with Molecular Dynamics: A flexible approach to improve design accuracy". The best poster was given to Kristina Heyn with project titled Ancestral Sequence Reconstruction and their opportunities. In order to practice the underestimated skill to ask questions, the organizer of the Summer Academy introduced the new prize category: The Questioner. Five participants of the Summer Academy who asked the most of the scientific questions have been awarded with the Questioner Prize.
| | |
| --- | --- |
| | |
In brief, it was a relaxed but effective Summer Academy with lots of opportunities for networking and broadening the scientific horizon by getting to know PhD students of other departments better. The coffee and lunch breaks in between as well as two get-together evenings with snacks and drinks provided us with many opportunities to discuss scientific problems and socialize. We look forward to the next Summer Academy 2016!