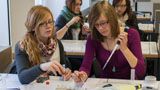 Mit UR-Wissen nach Oberviechtach
Am 17. Dezember 2012 haben Doktoranden der Regensburg International Graduate School of Life Sciences (RIGeL) aktive Nachwuchsarbeit geleistet. Unter dem Titel "UR-Wissen" haben RIGeL Koordinator Prof Dr. Gernot Längst, Karina Zillner und Stefan Dillinger, beides Doktoranden der RIGeL Sektion Cellular Biochemistry and Biophysics, das Ortenburg-Gymnasium in Oberviechtach besucht um Schülern der Oberstufe zu zeigen, was das Ausbildungsprofil eines Biologen/Biochemikers zu bieten hat.
Um das zu ermöglichen hat das Team eigens Laborausstattung aus Regensburg nach Oberviechtach transportiert. Unter der Anleitung von Karina Zillner und Stefan Dillinger durften insgesamt 16 Schüler einen Tag lang an die "bench" und eigene genomische DNA isolieren. Diese wurde dann zusammen mit einer von jedem Schüler selbstständig pipettierten PCR-Reaktion mittels Gel­elektrophorese analysiert. Außerdem wurden Bakterien mit einem Plasmid transformiert, welches für eine Antibiotikaresistenz kodiert und selektives Wachstum auf einer Agarplatte versetzt mit verschiedenen Antibiotika beobachtet.
Um das praktisch Erarbeitete im "Schülerlabor" zu fundieren hielt Prof. Dr. Gernot Längst in der Mittagspause eine Vorlesung. Dazu gab's Pizza und Applaus. Die erste UR-Wissen Veranstaltung war ein voller Erfolg und soll in Zukunft weiter durch die Lande ziehen.