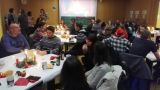 RIGeL Christmas Party 2022
On the 13th of December we celebrated our Christmas Party after two years of pandemic-break.
The party started with a cozy outdoor barbeque with grilled sausages, veggie burgers, waffles, mulled wine and punch. The fire bowls not only made the atmosphere more comfortable, but also provided cozy warmth in a somehow too cold evening. (The weather was really kind to us with the winter mood :-) ).
After about 2 hours in the cold, we continued the celebration in the beautifully decorated seminar room. In the pleasantly warm room there was a substantial buffet with many deliciousness. During the meal and the funny conversations, the time passed very quickly until we ended up the party around 9:00 p.m.
Thanks to everyone who took part in the celebration and to those who, with their help, made this party possible!
We look forward to our next Christmas party in 2023!
We wish you all a Merry Christmas and a healthy and prosperous New Year!